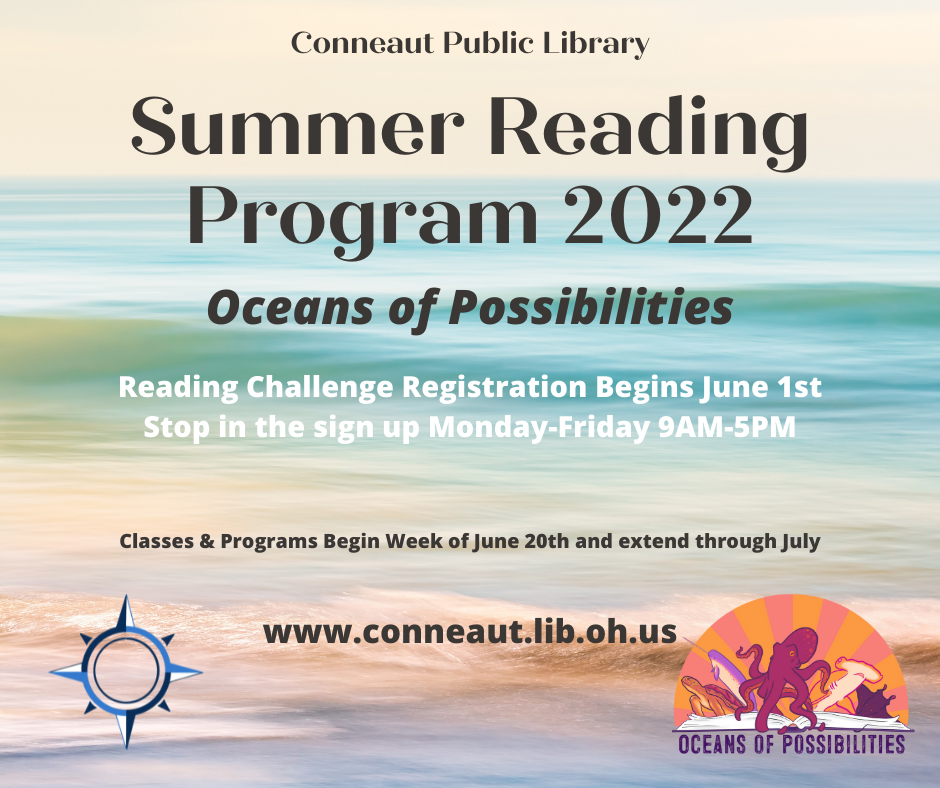 The Conneaut Public Library is offering a fantastic Summer Reading Program "Oceans of Possibilities" during June and July. From 20,000 leagues under the sea, to dreaded pirates, to magnificent mermaids, to shark tales, the Conneaut Public Library will have it all! In house programs, events, community partnerships, Summer Reading Challenge Logs, and more will be offered. Make sure that the library is a MUST SEA this summer!
Summer Reading Challenge Logs: Summer Reading Challenge Logs will be made available starting Wednesday, June 1st. Stop by the library to register for the challenge; read 20 hours by July 28th. The main goal of the Summer Reading Program is to help prevent the summer slide; the summer slide is a decline in reading ability and other academic skills that can occur over the summer months when school isn't in session. Read books as a family, independently, or as a group. Reading is offered in a multitude of ways through print, e-media, and audio. All types of reading material are acceptable as part of the reading program. This also includes an adult reading to a child (the reading time counts for both individuals!). Summer is the perfect time to pick up and read leisurely at the beach, on vacation, road trips, or lazy days in the backyard.
Need reading recommendations? Ask a staff member to guide you with suggestions based on author, genre, or subject!
All who complete the goal will be entered into a grand prize under their age group:
Youth (Birth - Age 5)
Children (Grades K-5)
Teen (Grades 6-12)
Adult (Ages 18 and up)
The Summer Reading Program "Oceans of Possibilities" will conclude Friday, July 29th with the End of Summer "Shell-e-bration" on the Conneaut Public Library lawn from 4-6PM. The evening will be filled with activities like #CheckOutConneaut, Tina the Face Painter, Jim Kleefeld the Magician, music, tie dye, Kona Ice, and concessions by the Friends of the Conneaut Public Library as well as announcing door prizes and Summer Reading grand prizes. Thanks to a generous donation, the American Legion Cowle Post 151 will be the sponsor of our "Shell-ebration".
Youth: The Conneaut Public Library is thrilled to bring you a summer filled with "Oceans of Possibilities". The Summer Reading Program will run 6 weeks between June 20th-July 29th. A myriad of programs and events will be held for all ages including classes, Movies Under the Stars, Uke Jam, and more!
Registration will open two weeks prior to every event/program. Programs are grouped by age & grade: Storytime (Ages Birth-Age 5) and Kindergarten – grade 5.
Weekly themes are:
1. Ocean
2. Pirates
3. Mermaids
4. Ocean Animals
5. Beach
6. Sharks
Teen: This year, our Teen Summer Reading Program will consist of different crafts, activities, and volunteer opportunities. Teens in grades 6-12 are encouraged to come to all events, which include water bottle decorating, trivia night, cupcake decorating challenge, water balloon competition, and much more! Teens can sign up starting June 1st, spots are limited to the first 25 teens.
To become a volunteen, email outreach@conneaut.lib.oh.us to get signed up or stop by after school. A mandatory meeting will be held Tuesday, June 14th at 11AM.
Adult: Explore Oceans of Possibilities this year with our Adult Summer Reading Program from June 1 – July 28. Join us on June 28th 3:30-5:00 for "Ocean Waves and Great Lakes Ways", a program with Guest speaker David Beckwith & Jerry Janco. While you are here, visit Gallery 304 and enjoy the exhibit hosted by the Ashtabula Maritime Museum. Plus much more!
For any questions pertaining the Summer Reading Program, logs, or volunteen program, please email outreach@conneaut.lib.oh.us or visit www.conneaut.lib.oh.us.