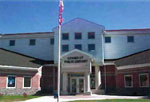 Conneaut Public Library began as the "Peoples Free Library Association", which consisted of contributing members. They were dedicated to the advancement of learning through the borrowing of free reading materials. Mr. H.H. Timby, a local bookseller, was hired as librarian. Books were distributed from his storefront.

In 1905, a library tax levy was passed. Many fundraising projects were also held. A board of trustees was established. The parcel of land on the corner of Buffalo and State Streets was purchased from Mrs. G.H. Sheppard for $4,000.00.

Two years later, Andrew Carnegie, owner of Carnegie Steel, donated $25,000 for the construction of the library. Opening day was May 3, 1909. Marie T. Brown was appointed the first librarian for the Carnegie Pubic Library. Total number of volumes on opening day was 12,000.

In August 1996, a library tax levy was passed for the construction and furnishing of a new library facility. Opening day was May 17, 1998. The name of the library was officially changed to the Conneaut Public Library in May of 1998.